[STRONG ADHESIVE] The high adhesive door bottom seal strip is made of clear flexible silicone rubber, non-toxic and environmentally conscious material. The tape uses high quality 3M glue for long-lasting adhesion, and will not be damaged even in extreme weather.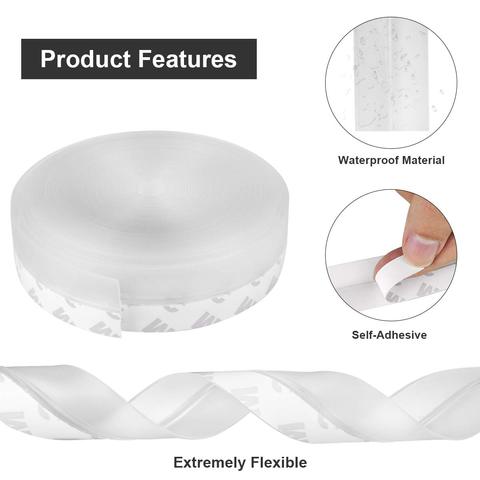 [FLEXIBLE AND DURABLE] Strong adhesive backing, waterproof and non-degumming, stick firmly, could work for a long time. Tear off the weatherstripping will not leave a sticky residue.


[DOOR AIR STOPPER SIZE] Total width-45 mm; Adhesive backing width-15 mm and thickness-1mm, suitable for sealing of 0 to 30 mm gap. This door bottom seal strip tape has good properties of Soundproof, Dust-proof, Weatherproof, Windproof, Anti Mosquito, Insects, Roaches, Energy-saving, Moisture resistant.



[EASY TO INSTALL] The weatherstripping self-adhesive of the door bottom seal is installed in just a few seconds. Before use, please clean the bottom surface of the door, cut it into different sizes according to your requirements, and paste it in the appropriate position. After pressing it, apply mild heat with a hair dryer.


[WIDE APPLICATION] The silicone sealing sticker is widely used for frameless glass doors, steel or aluminum windows, cupboards, sliding doors, door bottom, wardrobes, furniture, shower room, etc.



Specifications
Material: Silicone
Length: 5m/ 196.85 inches / 16.4 ft.
Width: 45 MM / 1.7 In