Powerful - Portable - Reliable
Create a relaxing workspace or a peaceful home environment with the mist of your favourite fragrances and essential oils.
Our Diffuser is versatile enough to enhance any atmosphere,  whether it's for a nostalgic smell you're hoping to find or just a welcoming fragrance to create the mood - we have you covered.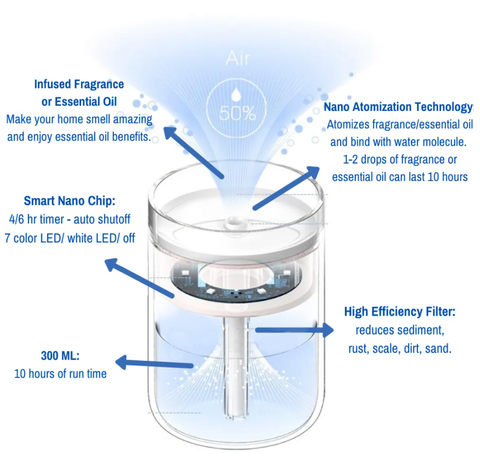 Features Multi-Use Technology
Use with water as a humidifier (Fill up the whole container with water)
Increase Air Humidity - Great for reducing dust and allergens in your space which can reduce sinus inflammation.
Beauty Benefits - Allow your skin and hair to hydrate and grow with increased water in the air. Alleviate chapped lips, dry eyes, dry sinuses/nasal passages.
Prevents or Reduces Symptoms - Helps prevent colds, flus, viruses, allergies, and asthma. Reduce symptoms of sore throat, congestion, snoring, and lubricated nasal passages.
Improve mental clarity -  Increased levels of oxygen in the air can increase awareness, relaxation, and focus.
Use with any fragrance or essential oil as fragrance diffuser - (Only 1-2 drops per 300ml needed)
Transforms Your Environment - Turns fragrances or essential oils into a gentle, fragrant mist to surround you with the fragrance you love. 
Reduce Stress & Anxiety Particularly - Oils like lavender and frankincense reduce anxiety by promoting calmness of body and mind.
Improve Sleep Quality - Lavender and Eucalyptus oil both stimulate a release of serotonin and melatonin, promoting a night of restful, uninterrupted sleep.
Elevate Mood - Oils such as lavender and peppermint promote positive feelings by raising the frequency of the body and elevating your mood.
Increase Focus - Certain Oils such as peppermint and eucalyptus are great for giving you a critical boost to energy and mood.
Easy To Use - Simply fill with water and add 2-3 drops of any essential oil to fill your room with a beautiful scent and aroma.
Two Spray Patterns - Continuous or intermittent.
3 Lighting Modes - Features beautiful ambient lighting that you can have on or off.
Powered by USB - Compatible with any device that has a USB port (laptop, desktop, power bank, USB plug socket, power outlet). Use with any phone charger & can even be used in the car! 
Auto Shut-Off - The Humidifier will automatically shut-off when the water level is low or after 4 hours
Ultrasonic Nano Atomization Technology - extremely quiet working noise <30 dB.
300ml Capacity - Up to 10 hours of run time
High-Efficiency Filter - Reduces sediment, rust, water scale, dirt, and sand 
Intelligent Nano Chip - Controls auto shut off, LED light modes & spray patterns
Includes:
1 x 300ml Aroma Diffuser
1 x USB Cable
1 x User Manual
1 x Filter Already Installed
1 x Spare Filter