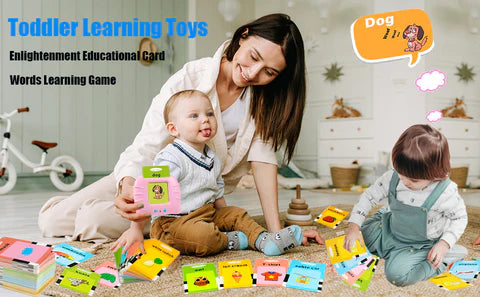 We are committed to design exceptional learning toys to promote the development of children. We encourages children to learn and grow from playtime, improve their learning and cognitive abilities. It is a good way to learn by playing games, toddler can improve their ability quickly.
Our new 2th Generation card reader machine toys comes with 112 cards, 224 patterns and words. children can learn about food, colors, vehicles, vegetables, fruits, animals. Shape and sound are combined, wow! Amazing. that suitable for kindergarten, classroom, preschool education.
Make Learning Word Fun
Kids don't like boring learning. This interactive toys can liberate toddler from boredom. Cute cards, standard pronunciation, and lifelike sound effects can make kids find the joy of learning. Whether at home, kindergarten, preschool, indoors and outdoors, kids can feel the fun of game learning as they like.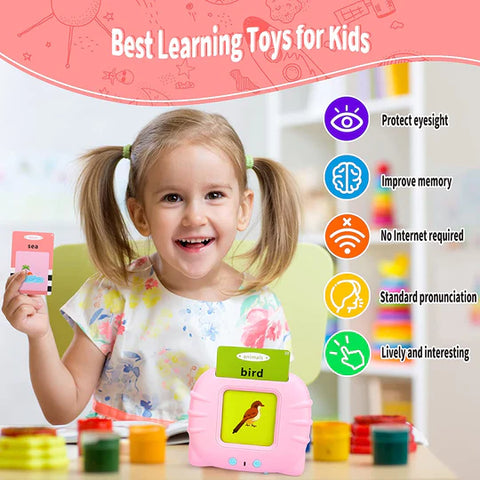 Language Enlightenment & Words Cognition
Words learning toys for toddlers with fun learning provide letters identifying, vocabulary building and reading functions for home or kindergarten kids. this word educational toy for toddlers help your little one develop memory skills, strategic thinking, sociability, spelling ability and word recognition. All-round mastery and start a journey of wisdom.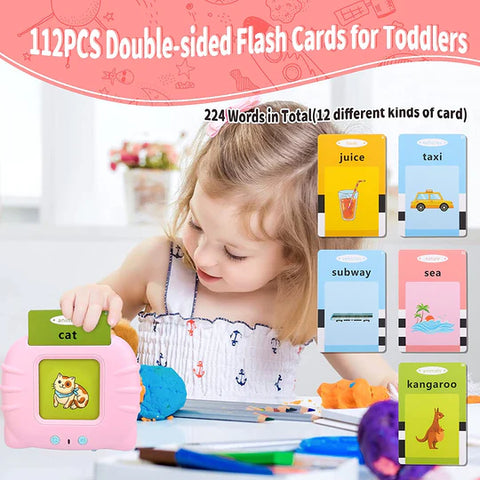 Intelligent Flash Card Speaking Toys
Its Standard pronunciation will make it easier for your baby to remember words. At the same time, this toys for boys and girls is also specially equipped with various animal sounds. Its purpose is to satisfy their curiosity about animals, so that kids can understand the world of nature in advance. (PS: Some cards don't have sound effect.)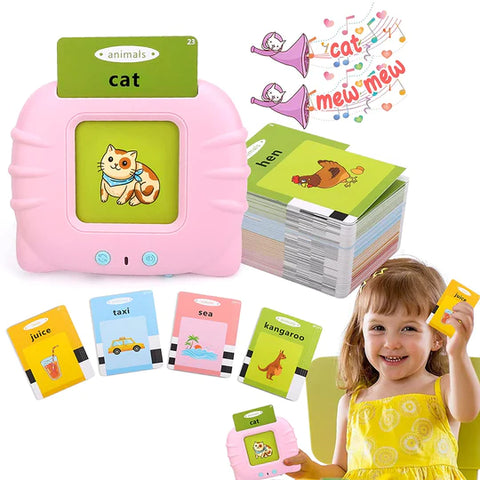 USB RECHARGEABLE,EASY TO OPERATE
You can recharge this device easily with Micro USB cable (cable include). Kids only need to insert the card into the card slot to learn the words they want to learn. At the same time, Repeat reading function helps kids remember words better, Young babies can study independently. Toddler Boy toys help your little baby develop memory skills, strategic thinking and word recognition.

Safe and Convenient
Flashcards are made with heavyweight cards, smooth edges, colorful paint. Safety for children. Size of the flash card reader device is 4.2x3.5x0.86 inch, perfect hand-held size for toddlers. Small size and easy to carry. No need for WIFI, clear spoken language with intuitive and interesting pictures, easy to learn anytime, anywhere The machine is made of ABS material, which is durable and smooth to prevent breaking.
DOUBLE EFFICIENT LEARNING RESOURCES
This flash card set contains 112 uniquely designed double-sided flash cards(Size: 6*9cm).They are Total 224 words with Illustrations: 56pcs Animals, 31pcs Daily necessities, 25pcs Vehicles, 21pcs Foods, 18pcs Fruits, 17pcs Vegetables, 16pcs Costumes, 10pcs Nature, 9pcs Colors, 8pcs Persons, 8pcs Jobs, 5pcs Shapes. Making learning easy and fun. Let toddlers learn Animals sounds and fun facts. Enhance Baby cognitive ability and exercise hearing.