DESCRIPTION:
This versatile Vegetable slicer will give you a more relaxed and fun cut!
Use this vegetable chopper kit to unleash your kitchen space and enjoy a variety of healthy meals. Suitable for a variety of vegetables, such as cucumbers, onions, potatoes, tomatoes, fruits, and more! The blades are sharp and the edges are fine, making cutting clean and easy. The plastic parts are made of sturdy and reinforced plastic.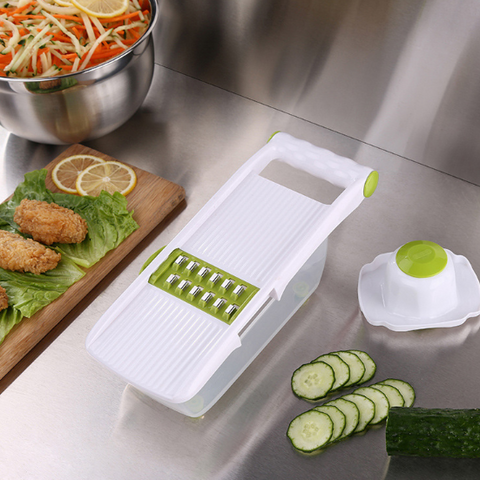 The slicer machine is designed to help you put more vegetables in your diet while reducing the time you spend preparing food and which gives you an extremely easy clean up. There is no skill involved, no strength required, and no complicated steps to learn. You can cut the vegetables and fruits elegantly and keep your kitchen mess-free.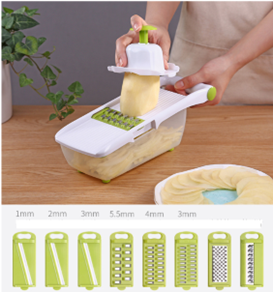 ADVANTAGES:
8-In-1 Kitchen tools: 8 interchangeable blades and extra peeler, through which you can get big or small, thick or thin slice, shreds or julienne. The blades allow flexibility to easily Cut, Slice, Dice, Chop Fruits & Vegetables in Shapes & Sizes for Minimum Time. Easy disassembly and installation.

Saving time and effort: Ultra sharp food cutter can help you shorten your prep time compared to traditional chopping, mincing, and slicing blades. The hardened stainless steel vegetable cutter is easy to chop or cut vegetables and fruits with 1 easy movement at a time.

No More Crying When Cutting Onions: No more Crying, Mess, Odor and Clean-up during chopping and dicing onions. Our Chopper, Cutter, and Dicer will help you especially to reduce onion vapors to get rid of your tears during your prep work.

Humanized Design: Easy to disassemble and clean blades, Easy to Clean, the Multi-functional vegetable chopper is equipped with cleaning teeth and cleaning brushes.

High quality and Safety: Made of hardened stainless steel discs. Will not bend or rust. BPA-free, heavy-duty professional-grade reinforced food-grade ABS for premium break resistance.