The nipple cover for the smoothest coverage possible.
Our nipple cover will get the job done on hot summer days, through sweaty workouts, and on nightclub dance floors!
What's most important is that you feel comfortable and confident.
Our reusable silicone nipple pasties can be used discreetly to conceal your nipples under your favorite sheer styles, t-shirts, sports bras, or swimwear.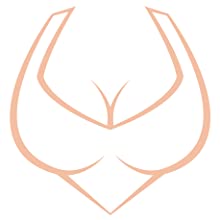 HOW TO USE
Step 1: Clean and dry the skin
Step 2: Place the cover starting from the bottom
Step 3: Smooth the edges
Step 4: Simply remove with water
Step 5: Wash with soap and let air dry
HOW TO CLEAN 
Simply rinse with warm water & light detergent and they are ready for the next adventure!
SHIPPING
Shipping usually takes 7-15 Business Days.
Processing the order takes 1-3 Days.
Orders over 39.99$ have FREE SHIPPING.
HASSLE-FREE RETURNS
We offer Hassle-free Returns for 30 days. If there's ANYTHING wrong with your order, please let us make it right!