BUY IT NOW, DO NOT HESITATE !!!
MADE IN Japan
Shipping within 30 hours

Have you ever had earphones that don't fit or fall out? Or have a headset that gets dirty from being inside your ear? Or did you know that conventional earphones can cause long-term hearing damage to your eardrums and you wouldn't even know it?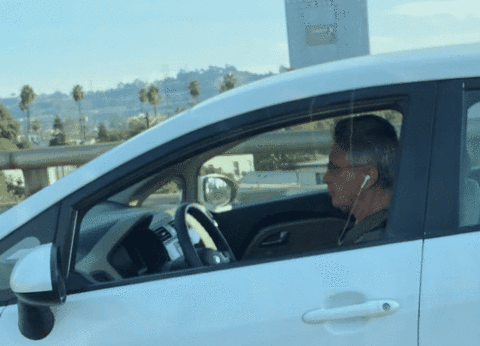 Wearing regular headphones behind the wheel poses a risk to drivers, occupants, and other road users by serving as a potential distraction.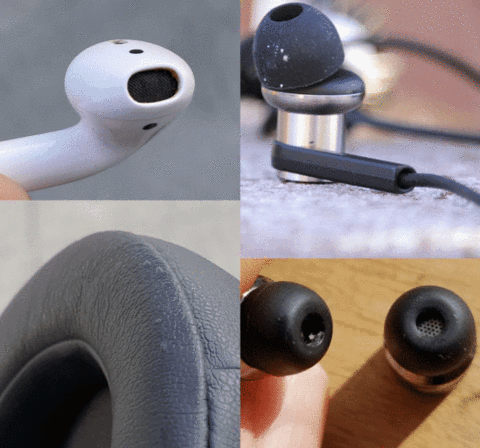 Bone Conduction Headphones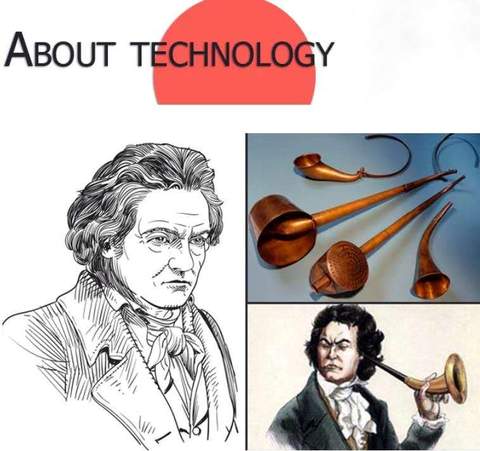 This technology of sound transmission is known since the days of Beethoven, an outstanding deaf composer, and in some sources is called the "inventor" of this method of sound transmission. There is a well-known fact that the genius bit the metal tube, put the other end to the musical instrument and thus could hear what he was composing.It is now widely used in medicine and military technologies.
Features:
Bone Conduction Technology: Now enjoy hours of music without damaging your earbuds. It features bone conduction technology that creates vibrations to transmit sound through the bones of your face (jawbones and cheekbones) directly to the inner ear. The wrap-around-design makes it extremely lightweight, flexible and provides custom and secure fit.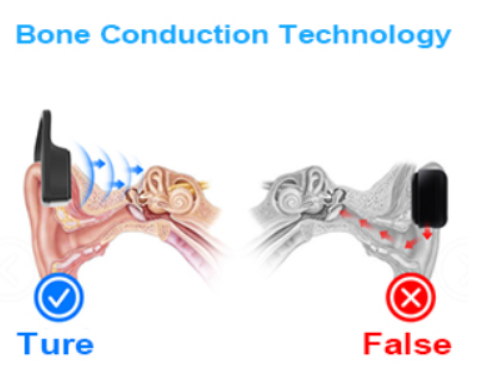 Unmatched Comfort and Stability: The ergonomic design provides ultimate comfort and makes sure that it stays put, no matter what. Whether you are doing an intense workout, hiking, running, climbing, skating, driving or more and USB powered which makes it perfect for every situation.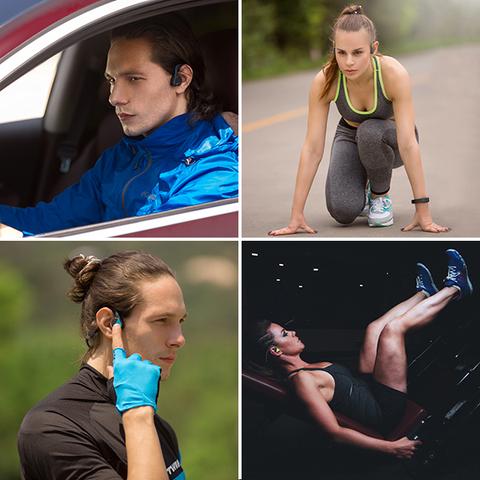 Bluetooth 5.0 Connection: Enjoy the hands-free experience. With up to 10m of range, you will never have to reach your device again and again. It effortlessly connects with smartphones, tablets and other Bluetooth enabled devices in no time.

Crystal Clear Calls: Never let any disturbance come into your way again. With advanced noise reduction microphone, it optimizes your call and reduces the background noise.
Sweatproof Design: Now pep up your workout with crip and powerful sound that your traditional headphones can't match. These bone conduction headphones are sweat resistant and stay securely in place throughout your workout and exercise session.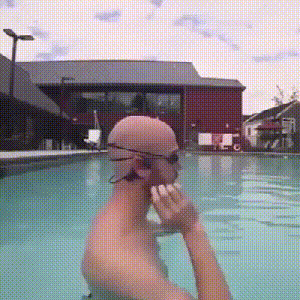 Easy to Control: One button control, you can easily adjust volume, change tracks and easily switch between calls and music.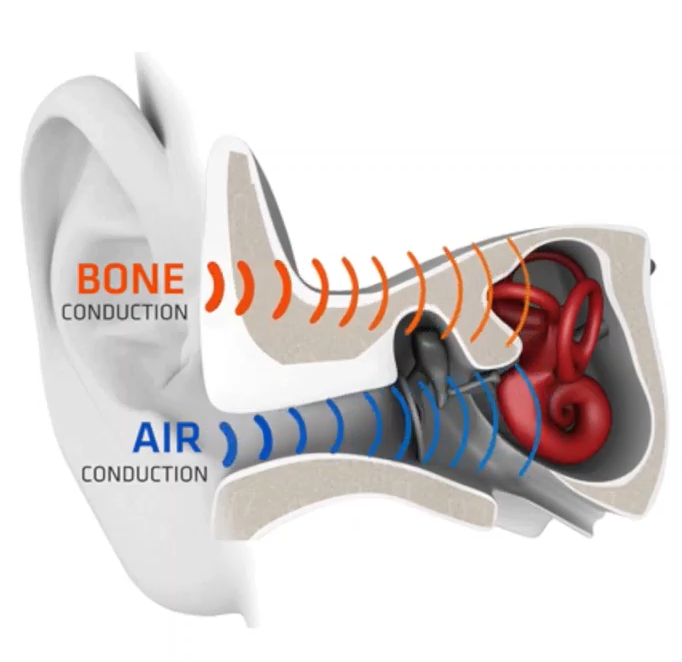 A Battery That Just Keeps Going: With over 7-8 hours of playtime and 15 days of standby time, enjoy hours of music, calls, movies, and videos throughout the day.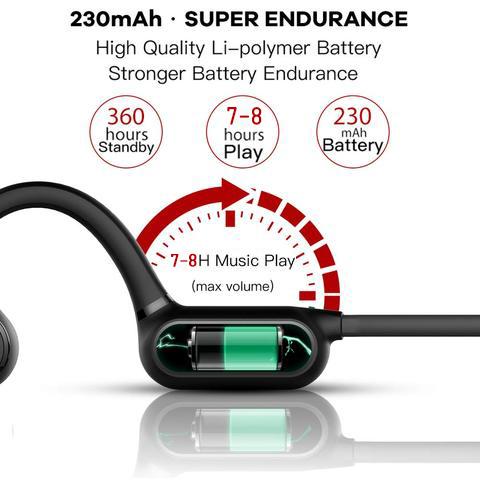 Unlike traditional headphones, they will block your surrounding sound more or less, so you may expose in danger while you're running or cycling. Bone conduction headphones work by vibrations, sound transmits via cheekbone to your cochleas, which avoids hearing impairment compared to ordinary earphones.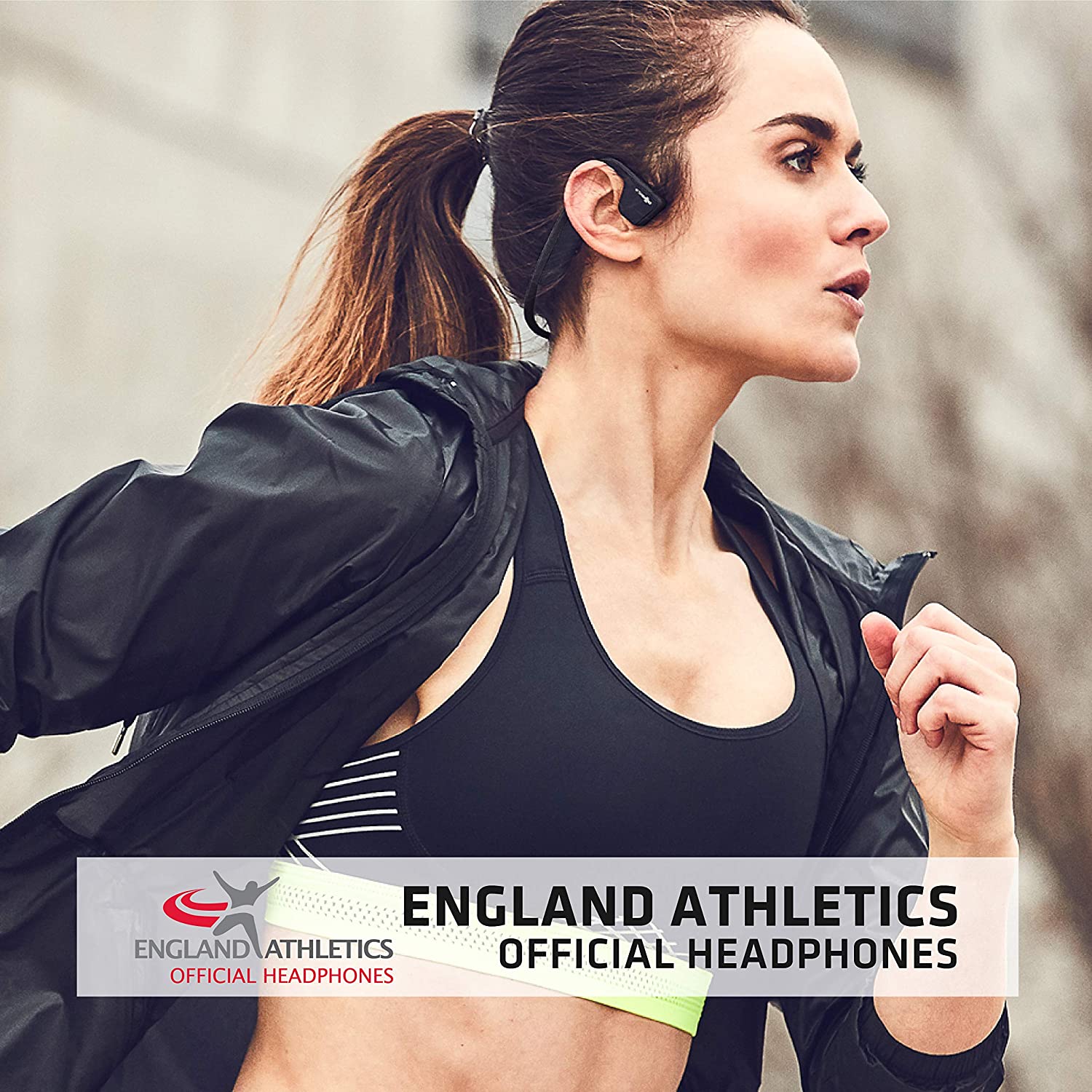 Bone Conduction Headphones are lightweight and they will never fall out no matter what kind of strenuous exercise, enable you to do sports freely.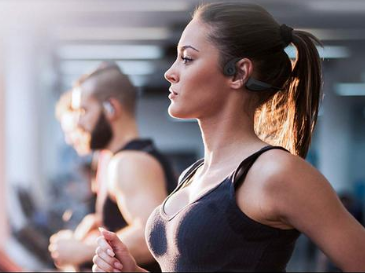 Specifications:
Working Time: ≥7 Hours

Charging Time: 0.8 Hours

Bluetooth Version: V5.0

Working Range:10 Meters(33 Feet)

Standby Time(Off State):2800 Hours

Standby Time(Connected State): 180 hours

Waterproof:IPX5

Type: Open Ear Wireless Headphone

Charging Voltage: DC 5V

Frequency: 20HZ-20kHz

Microphone Sensitivity: -42dB

Net Weight:16g

Origin:Made in Japan
Package Includes:
1 x Bone Conduction Headphones

1x USB Cable

1x User manual
CUSTOMER QUESTIONS & ANSWERS
Question:Can you pair multiple devices simultaneously?
Answer:Yes you can. Currently have mine paired with three different devices. You will have to re-discover which device you wish to use if all of your paired devices are on and within Bluetooth range.
By Brandy Dickens on Mar 2, 2020
Question:Can you skip tracks while listening to music via headset?
Answer
:Yes, by tapping on the capacitive side.
By Soheli Akter Hira on May 20, 2020

Question:I've got a big head, and I usually have issues with wrap around style headphones. How long are these?
Answer:Not so much your head but your neck. These will loop your ear and ride on the nape of your neck.
By CoyoteS550  on Jun 6, 2020

Question:Can this product be used with iPhone?
Answer:Definitely. I use mine with an iPhone 8+. It's super comfortable, probably the most comfortable headphones I've ever used. I listen to audiobooks for hours every day and these are great.
By D Anthony on Jun 28, 2020
Question
:
Are the he harmful to my hearing?Answer
:No,not at all!Listening to music through bone conduction technology is actually safer than using traditional earphones,as it doesn't damage the ear canal when played at high volume.
By Rachel.k 
on Jul 17, 2020
Question:How well do these fit with glasses?
Answer:They still fit really well and I have flat ears. I gave an extra pair to my sister. She wears them with sunglasses too.
By Lewa on Jul 21, 2020